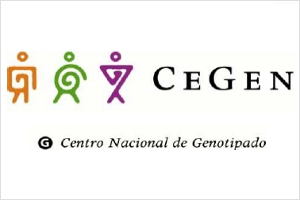 Tel: 981955191
e-mail: coordinacion.cegen@usc.es
A node of the Genotyping National Centre (CeGen) is integrated in the group, which is currently in the structure of the Biobanking and Biomolecular Resources Network Platform (PRB2) sponsored by Carlos III Health Institute.
The center's goal is to provide high efficient genotyping of SNP (Single Nucleotide Polymorphisms), CNV (CopyNumberVariations) and InDels (Insertions and Deletions) and analysis of DNA methylation, large scale and low cost, in both humans and other animals or plants.
CEGEN node has several high efficient genotyping platforms: MassArray (AgenaBioscience), GeneChip and Axiom (Affymetrix) and SureScan Microarray Scanner (Agilent Technologies).
CeGen-ISCIII offers the following services:
1. Pre-Genotyping:
Support in the selection of SNP, CNV, and/or relevant indel regions or genes previously established by the researcher.
about the most benefitialgenotyping technologyfor each project.
Complementary services to genotyping: extraction, quantification, normalization, amplification, purification and verification of the integrity of DNAN.
2. Genotyping
Currently, the CeGen-ISCIII has eight technology platforms to carry out largescale genotyping studies that make it possible to do an analysis of the genome-wide and also a tailored genotyping. One of the available technologies shall be selected dependingon the number of SNP, CNV and/or InDels, the number of samples to be analysed and the flexibility when choosing indicators.
3. Post-genotyping
Scientific advice.
Support in analysis tools for genotyping results.