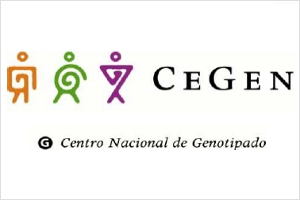 Tel: 981955191
e-mail: coordinacion.cegen@usc.es
The National Genotyping Center was born in 2003, thanks to the impulse of Genoma España with the aim of offering high-performance genotyping services of SNPs (Single Nucleotide Polymorphisms), CNVs (CopyNumberVariations) and InDels (Insertions and Insertions). Deletions) and DNA methylation analysis, on a large scale and low cost, both in humans and in any other animal or plant species.
In 2010, it was already a consolidated platform that became, firstly, a Stable Cooperative Research Structure and later a Platform to support research in health sciences and technologies of the Carlos IIII Health Institute.
CeGen has the high-throughput genotyping platforms from MassArray (AgenaBioscience), GeneChip and Axiom (ThermoFisher) and SureScan Microarray Scanner (Agilent Technologies). This updated equipment, available to few research centers, allows us to provide a fully integrated and high-level service from the initial design phase of the project to the analysis of the results:
1. Pre-genotyping:
Support in the selection of SNPs, CNV, and / or indels of regions or genes of interest previously established by the researcher.
Advice on the most suitable genotyping technology for each project.
Complementary services to genotyping: extraction, quantification, normalization, amplification, purification and verification of DNA integrity.
2. Genotyping
At present, the CeGen-ISCIII has eight technological platforms to carry out large-scale genotyping studies that allow a complete genome analysis to be made to measure genotyping. Depending on the number of SNPs, CNVs and / or InDels, the number of samples to be analyzed and the flexibility when choosing markers, one of the available technologies will be selected.
3. Post-genotyping
Scientific advice.
Support in tools for the analysis of genotyping results.
Financing: Carlos III Health Institute (PT17 / 0019/0025), co-financed by the European Regional Development Fund (ERDF) A way to make Europe.
(2018-2021):