Main researcher: María J. Brión Martínez
Cardiovascular diseases genetics
Sudden cardiac death genetics in a young adult
Sudden cardiac death (SCD) is a serious health issue that in a high number of cases affects overall population but,apparently, it affects healthy young individuals as well. A wide number of pathologies are involved in its development, which are characterised by the presence of a great diversity of phenotypes and genotypes. Some of these pathologies, and those which our studies are focused on, are: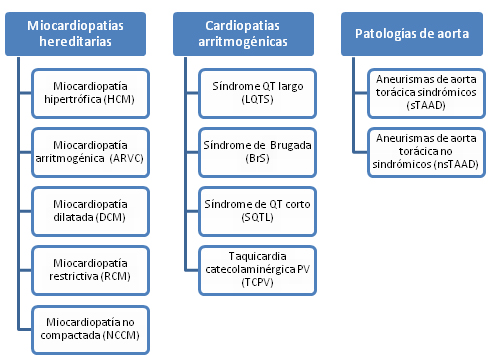 A great number of mutations in a high and increasing number of genes involved in the development of said pathologies have been described. Our study focuses on:
-Study the already known genes and their possible role in sudden cardiac death.
-Assess the implementation of new technologies for the genetic diagnosis of these pathologies.
-Search new genes responsible for the pathologies, whole exome sequencing.
Sudden Infant Death Syndrome (SIDS) genetics.
In developed countries, sudden infant death syndrome is the single largest cause of death among infants between one month and one year of age. Epidemiological studies have described a range of related environmental factors, but its cause is still unknown. Until now, a large number of theories have been proposed to explain this syndrome and all of them agree on the fact that these casualties derive from a complex interaction between genetic and environmental factors occurring in a vulnerable stage of development. Our main interest is to identify these genetic factors and for that purpose:
-We study the involvement of genes associated with SCD in young adults.
-We search for new associated genes through whole exome sequencing studies
Bicuspid aortic valve (BAV) genetics.
BAV is the most common congenital heart abnormality. It affects approximately 2% of the population and is linked to an increased risk of thoracic aortic aneurism. Given the evidence that a complex genetic component underlies this pathology, our interest is to search for possible genes involved thereof, through genome wide association studies or GWAS.