Tel: 881812216
E-mail: instituto.ciencias.forenses@usc.es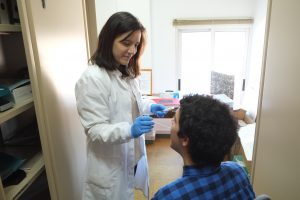 All services provided by Genomic Medicine Group have a top quality guarantee for Forensic Genetics Tests (biological relationship and paternity tests, personal genetic profile, criminal tests, biogeographical and ancestry origin, analysis of cadaveris samples…).Currently, our laboratory meets all the necessary technical and methodological requirements that allow us to maintain accreditation service by UNE-EN ISO/IEC 17025.
Our researchers are actively involved in various associations and international forums such as the International Society of Forensic Genetics (ISFG), participating actively in quality controls organized by the GEP-ISFG.
Protocols and procedures used by the Genomic Medicine Group have been adapted according to recommendations of the ISFG, EMQN, EDNAP (European DNA Profiling group), ENFSI (European Network of Forensic Science Institutes) and UK Clinical Molecular Genetics Society.
For more information about the services offered, please contact the Institute of Forensic Sciences of the University of Santiago de Compostela.