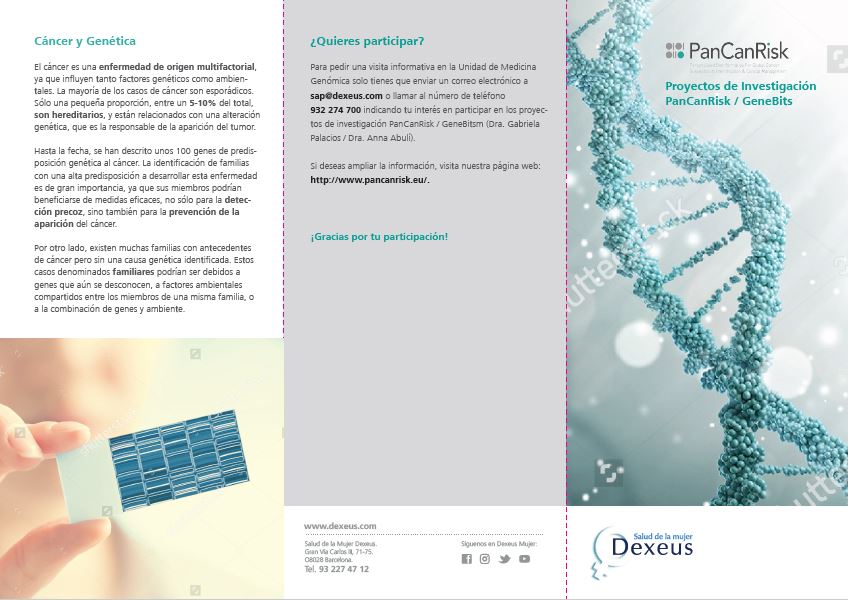 A new brochure for recruitment of patients launched
The PanCanRisk project is a laboratory test designed to study genetic material. It consists of analyzing regions of the human genome (PanCanRisk test) to detect genetic alterations that may be related to a genetic predisposition to cancer. Its objective is to define the genes and genetic variants associated with the risk of breast cancer, and to compare the frequency and type of genomic variants between the populations of breast cancer cases and those that serve as control (with no known background).
Clínica de la Mujer Dexeus (one of the partners of the PanCanRisk project in Spain) has launched a leaflet in order to inform women about the possibility of taking part in research studies in the framework of PanCanRisk. Collaboration in research studies is essential for the advancement of science and beneficial to society. Through voluntary participation we can help broaden the current knowledge about cancer and this information may be useful in the future for other people.
PanCanRisk is searching 2 different profiles:
• Women aged 40-65 years who have had one or more normal mammography results in Women's Health Dexeus in the last 6 months (BI-RADS 1-2) and who have no personal or family history of cancer at an early age ( provide the latest mammography result).
• Women between 40-65 years old diagnosed with breast cancer with or without a family history of cancer. Patients with a personal or family history of cancer with a identified genetic predisposition may not participate
If your profile corresponds and you are interested in participate, please request an informative visit in the Genomic Medicine Unitby sending an email to sap@dexeus.com or calling +34 932 274 700 indicating your interest in participating in the PanCanRisk / GeneBitsm research projects (Dr. Gabriela Palacios / Dr. Anna Abulí).
For further information, please download the brochure here