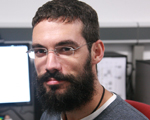 Bachelor's Degree in Biology in 2001.He joined the Genomic Medicine Group in 2001 together with Xulio Maside to complete a study ofthe dynamics of moving parts in twelve kinds of Drosophila,whichserved as a basis for completing the DEA. In 2010, he collaborated with Hugo Gutiérrez from Terán Castañón to set out a server of computational modelling of GPCR proteins, finishingin 2012 and whichis available here.
In 2013, he began working as a support bioinformatic in the FPGMX, dealing speacially with NGS tasks.
During this time, he has specialised in Python, Django, PostgreSQL and administration of Unix systems, tools with which he implements most of his work.