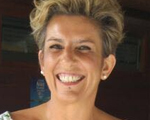 Soledad Otero Piñeiro graduated in Biology at the University of Vigo and since 2012 she develops her professional activity at the Genotyping National Centre (CeGen), where she carries out her work as a research support technician.
Since 2014, she cordinatesthe CeGen genotyping projects and all the related complementary activities, providing technical advice about genotyping platforms and complementary services, such as the extraction, purification, quantification, standardisation and quality of nucleic acids.
In addition, she completed a Master's degree in Anthropology and Forensic Genetics (University of Granada) and a Master in Biomedical Research (University of Santiago de Compostela). She is currently developing her thesis at the Molecular Medicine programme of the University of Santiago de Compostela.