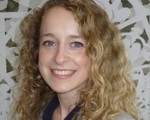 She graduated in Biochemistry at the University of Oviedo in 2008 after finishing the first cycle of Chemistry at the University of Santiago de Compostela. She joined the research after completing her final career project in Osnabrück (Germany), to later make a stay at the Rigshospitalet in Copenhagen which focused on the field of forensic genetics.
At the end of 2008 she began her doctoral studies at the Institute of Forensic Sciences of the Faculty of Medicine in the University of Santiago de Compostela with a pre-doctoral fellowship in Health Research Training (Carlos III Health Institute). On the one hand, her research was mainly focused on developing new biomarkers to be used on forensic genetics, and, on the other, in the development of specific screening tests in the field of clinical genetics and pharmacogenetics. During this period she made several stays abroad, among them in Innsbruck and Zürich Institutes of Legal Medicine.
In 2014 she completed her doctorate studies with European mention and her efforts were focused on translating and implementing the results of the group in the Area of Pharmacogenetics into clinical practice.
In 2016 the GenDR proposal (Genetics and Drug Response) has been awarded the awards of the Argos program of the USC (AVTE / UNINOVA), Model2Market initiative (Spin2016) aimed to create companies with a business model with social and economicpotential, and the "best business idea" given by Emprendedores magazine.
She is a member of the Spanish Society of Pharmacogenetics and Pharmacogenomics (SEFF).