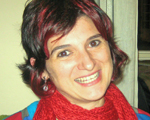 Her cientific career has been linked to the field of research on complex and/or rare diseases, with the purpose to provide important information on specific aspects of behavioral and cognitive phenotype of diseases that were nondiagnostic up on until recent times. Such diseases compromise physical, cognitive and sensorycapacities and qualities, especially its diagnosis and intervention. The researcher developed a line of research in two rare diseases: Williams Syndrome and Smith Magenis Syndrome, being IP of a research project on the Call of Alicia Koplowitz Foundation of grants for researching in children and adolescents psychiatry and neurosciences. This line of work contributes to translational research from the laboratory (molecular diagnostics) to the clinical population (prevention strategies, genetic counseling and intervention).
She is a member of the Biomedical Online Research Centre on Rare Diseases. In the research in the different cognitive areas contextualised in different genetic syndromes, the researcher has always been very committed to the area of language and her acquisition and development.This resulted in a publication: GarayzábalHeinze, E., Fernández Prieto, M., Díez Itza, E. (2010) "Guía de intervención logopédica en el syndrome de Williams [Guide to speech intervention in Williams Syndrome]", Synthesis publisher.Editorial Project: Language disorders.Series: Intervention Guides.
She is currently involved in a series of works focused on the Autism Spectrum Disorder, Obsessive Compulsive Disorder and Attention Deficit Disorder and Hyperactivity, and she is particularly interested in mapping brain processes that may be involved in language, social cognition and behavior through the combination of cognitive and behavioral studies with magnetic resonance.