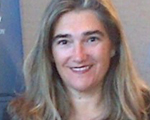 Genetic-epidemiologist Doctor, Bachelor Degree in Medicine and Surgery at the USC and PhD in Genetics and Cancer Epidemiology at the University of California in Los Angeles (UCLA). She has beenan Assistant Professor of Preventive Medicine at the Keck Medical School of the University of Southern California and she has beenan associate member of Norris Comprehensive Centre of Cancer at the University of Southern California and she is currently a researcher at the FPGMX.
She has participated in genetic-epidemiological studies of cancer for twenty years at the University of Southern California, United States. She has obtained an IP with public and private funding in a number of research projects, including a R01 initiated-researcher grant from the National Cancer Institute (NCI)/National Institutes of Health (NIH) of the United States equivalent to a Starting grant from the EU (R01 CA 114472: A Family-based Genetic-Epidemiological Study of Lipid Peroxidation in Colorectal Cancer Development).
One of the main objectives of the Genetics and Molecular Epidemiology of Cancer Research Programme in Galicia has been the establishment of epidemiological genetic studies on a large scale to transform Galicia in an internationally relevant member in genetic epidemiology of cancer (for instance, the study BREOGAN,Breast Oncology Galician Network). Her research programmewas focused on genetic and molecular epidemiology and breast, colorectal, prostate and urinary tract cancer. In addition, she is an active member of the BCAC (Breast Cancer Consortium), PRACTICAL (Prostate Cancer Consortium) and ICBC (Bladder Cancer Consortium), in which she participates in collaborative projects of genetic susceptibility to breast, prostate and urinary tract cancer, together with the most important international groups working in this same line. As a result of these collaborations,common susceptibility variants, whose objective is to implement a precise medicine, have been identified. She also studies the role of interactions between genes and environment in cancer etiology, treatment response and survival, focusing on the influence of genes and biomarkers of risk.