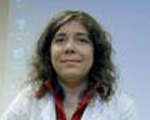 She has a degree in Medicine with distinction at the USC. Specialized in Neurology and End of Residence Award. PhD from the USC in 1999 with excellence, Cum Laude.Fellow of Pedro Barrié de la Maza Foundation grant for postdoctoral research in the laboratory of Dr. DH Geschwind (1999-2001). Fellowship in Neurogenetics at UCLA. Training stays in Santa Creu i San Pau (Barcelona), Los Andes (Venezuela) and Aachen (Germany), and in the universities of Braunschweig and Mannheim. Fellow of the European Board of Neurology.
She worked at the Neurology Department of the University Hospital of Salamanca before joining as a Miguel Servet researcher to lead the genetic neurological diseases research group of the Health Research Institute of Santiago (IDIS).
Member of the Galician Neurology Association, Spanish Neurology Association (SEN), Spanish Human Genetics Association, American Academy of Neurology, EuropeanAcademy of Neurology, European Human Genetics Association (member of the scientific committee) and American Human Genetics Association. In the SEN she has been coordinator of the group of Neurogenetics. Currently, she coordinates the commission of ataxias and paraparesis, she belongs to the group of genetic and metabolic diseases of the European Academy of Neurology and to the Human Variome Project.
She is part of CIBERER and she participates in the IRDiC consortium on rare diseases. She is proofreader for ANEP and several scientific journals. Sheis part of the editorial board of Human Mutation and Applied and Translational Genomics. She is scientific advisor of the European Federation of Familial Spastic Paraparesis and the US SpasticParaplegiaFoundation.
He has conducted doctoral and master's theses, she has published about 80 scientific articles and she has given lectures and courses at national and international conferences, as well as at several universities.
Her lines of work are the molecular basis of neurodegenerative diseases (especially ataxias and spastic paraparesis) and the implementation of new genomic technologies, as well as ethical, legal and social aspects of its transition to the patient.
She participates in the development of databases and other IT tools to optimize diagnostic processes. Main contributions of the group: identification of the genetic cause of the ataxia of Costa da Morte and clinical, cognitive, neurophysiological and neuroimaging characterization of these patients; the development of diagnostic techniques for neurology (gene dose studies, analysis of expansions, massive sequencing of gene panels (paraparesis, neurometabolic diseases) and complete exomes.
Her works integrate deeply and dedicated knowledge and computer skills essential for today's Genomic Medicine.The future of molecular disease research, in addition to the potential to obtain transferable results, involves the mastery of computerized tools.
The group of neurogenetics that has been developed around Dr. Sobrido is in a position to integrate genomic knowledge (Quintáns, Blanco-Arias, García-Murias) with clinical neurology (Arias, Pardo, Sesar, García-Sobrino) and cognitive development (Fernández-Prieto), as well as with the field of computer engineering and data mining (collaboration with MJ Taboada).