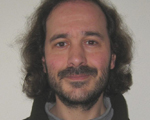 PhD in Genetics from the University of Santiago de Compostela in 2000 with a study about the evolutionary history of endogenous retroviruses in Drosophila and human. That same year, he joined the Institute of Molecular and Cell Biology (IBMC) of the University of Porto as a postdoctoral researcher working on the evolution of regulatory sequences of gene expression in Drosophila. His work on these topics led to some publications in high impact journals such as Science, Molecular Biology and Evolution. In mid-2003, he joinedthe node of Santiago of the Genotyping National Centre (CeGen) to lead a pilot project on mental disorders genetics.
From 2006 to 2011, he had a contract to work on PargaPondal programme in the Galician Public Foundation for Genomic Medicine. This was his first project as mainresearcher (FIS, 2005 call).
Since 2012, he is a researcher at the Miguel Servet programme at the Health Research Institute of Santiago (IDIS), where he is the main researcherof the emerging group of psychiatric genetics IDIS.A large number of the results of their work in psychiatric genetics have been published in high impact magazines such as Nature, Molecular Psychiatry or BiologicalPsychiatry.
You may find updated information here (in Galician) or here (in English).