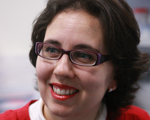 She has a degree in Biology from the University of Santiago de Compostela and Doctor specialised in molecular genetics, for which she won the extraordinary doctorate award from the Faculty of Medicine. She carried out research in forensic and populations genetics and conducted by Dr. MV Lareu and A Carracedo.
Later on,she focused on clinical applications of genetics, she completed her research and diagnostic training with Dr. C Navarro at the University Hospital Complex of Vigo and at the Galician Public Foundation for Genomic Medicine.
She developed genetic diagnostic protocols, especially in the area of neurology and rare diseases, optimizing several genotyping, sequencing and analysis of gene dose techniques and applying computer algorithms to identify mutations.
Since 2006,she is responsible for support and logistics at the research team. She has specialised in the study of complex cases for search and interpretation of foundmutations. She has introduced large-scale genomic studies applied to diagnosis, both design and analysis of data obtained from the massive sequencing of candidate genes (targetedresequencing) and complete exomes (exomesequencing). She has also applied other high performance analysis techniques, such as complete genome binding and arrays for candidate regions and evaluation of gene dose.
She also participates in national and international research projects on genetic diseases, among which we can emphasize the line of ataxias and spastic paraparesis. In the area of study of primary calcifications of basal ganglia she has participated in international multi-center studies in recent years that have led to identify the first genes causing this entity by applying massive sequencing tools.
She is a member of several scientific associations such as the Spanish Association of Human Genetics (AEGH), which granted her with the Accreditation in Human Genetics, the EuropeanSociety of Human Genetics (ESHG) and the Spanish Society of Neurology (SEN). Sheis a member of the Center for Biomedical Network Research on Rare Diseases (CIBERER). She is the author of numerous scientific articles and more than 80 conference papers.
She often develops training activities, with special emphasis on those aimed at patients, families and dissemination of genetics to society in general.