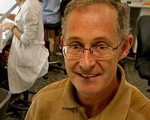 Professor at the University of Santiago de Compostela, Spain.
– Director of the Galician Foundation of Genomic Medicine (SERGAS, Galician Service of Health)
– Director of the Spanish National Genotyping Center
– Member of the Centre for Biomedical Network Research on Rare Diseases (CIBERER)
In a first step of his career AC activity was mainly devoted to population and forensic genetics, becoming an outstanding forensic geneticist, among the foremost and pre-eminent in the world, pioneering the use of new technologies in forensic identification and creating a center where visiting scientists from all over the world are trained. His group leads scientific production in the SCI area of legal and forensic science worldwide. Director of the Institute of Legal Medicine (USC) from 1995 to 2012.
From 2002 he concentrated most of his efforts in the clinical genetics area where he has set up the Galician Foundation of Genomic Medicine. This center is carrying out most of the molecular genetics and cytogenetic analysis requested by the Galician system of Health, covering a population of 3.5 million inhabitants and being one of the most important public genetic services in Spain (with more than 25000 cases diagnosed per year including mendelian traits, cancer  genomics, prenatal diagnosis and pharmacogenomics). 
AC is the Coordinator of the Spanish National Genotyping Center (Institute of Health Carlos III), center implemented in 2002 with other colleagues from Barcelona and Madrid. Actually, the research activity of his group is also integrated into the Spanish Network Center for Rare Diseases (CIBERER).  
Most of AC recent research is now mainly concentrated in the genetics of mendelian and complex traits, particularly colorectal and breast cancer, psychiatric diseases and pharmacogenomics.
AC has published 10 books and over 450 papers in SCI journals, most of them in Clinical and Molecular Genetics, (Nature, Nature Genetics, Science, PNAS, Oncogene, Human Mutation, Human Molecular Genetics), Biochemical separation methods (Electrophoresis, Biotechniques, Clinical Chemistry), Human Population Genetics (American Journal of Human Genetics, Gene, European Journal of Human Genetics, American Journal of Physical Anthropology,  Human Heredity) and specially Forensic Genetics (Forensic Science International: Genetics, International Journal of Legal Medicine) (See PubMed Carracedo A). Furthermore, he has directed more than 70 PhD's all with the highest qualification and 18 with University or National Awards.
Regularly invited as a keynote speaker at meetings, workshops and symposia all around Europe, North & South American countries, Japan, Australia and other countries.
Board member and external adviser of different national and international institutions, foundations and societies on Genetics, Forensic Science, Cancer and Pharmacogenomics.
Representative of Spain in The European Medicine Agency (Pharmacogenetics Working Group) and different regulatory boards (IRDiRC, ICRC, Forensic DNA Regulator UK…).
AC take part into several number of national and international networks and consortia (STADNAP, RIGEMAMEF, RGBio,SNPforID, RGEPs, RECAVA, Red Nacional Bioinformática médica, EPICOLON, RGCCR, HVP, GOGENT,CHIBCHA, LACE,EUGEI, EUROFORGEN, GEUVADIS, HELIX, among others), coordinates the Country Node (Spain) for the Human Variome Project and is Editor of Forensic Science International Genetics and member of the editorial board of a number of the international and national journals on genetics, cancer and forensic science. 
Finally, he has been awarded with the Jaime I Award, Adelaide Medal, Galien Medal, Medal Castelao, Medal of Galicia, Medal to the Police merit, Galician Prize of Research, Fernandez Latorre Award, and other prizes from foundations and scientific societies. Doctor Honoris Causa for different universities in Europe and the Americas, he is also a board member of the AstraZeneca Foundation,   Merck Salud Foundation and  Barrié Foundation.