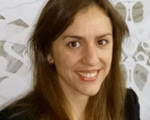 She holds a bachelor's degree in Veterinary Science with a specialization in Biotechnology applied to Veterinary Sciences by the University of Zaragoza. She began her research career with a collaboration grant in the Biochemistry department of this university, focused on the biomedical application of embryonic stem cells. She completed her training with a Master's Degree in Cellular and Molecular Biology and a 4-month stay at Center for Molecular Mitochondrial Medicine and Genetics (MAMMAG) in the University of Irvine (EEUU).
In 2009, Dr. Latorre joined the National Center for Cardiovascular Research (CNIC, Madrid), where she completed her doctorate studies with European mention in 2014, with the qualification "Cum Laudem". She was specialized in the genetic study of mitochondrial diseases, heart disease, neurodegenerative diseases and aging, and she completed her research at the Research Program for Molecular Neurology at the University of Helsinki, with an EMBO grant. Her research findings have been published in high-impact journals such as Nature and Science.
In 2015 she joined the group of Xenomic Medicine, where she is currently developing her research work in the area of pharmacogenomics with a focus on transfer of results and translation and integration of pharmacogenetics in healthcare.
In 2016 the GenDR proposal (Genetics and Drugs Response) was awarded with the Argos programme from the USC and the Model2Market program (Red Emprendia), aimed to create companies through academic teams, as well as the "best business idea" given by Emprendedores magazine.
He is currently a Member of the Spanish Society of Pharmacogenetics and Pharmacogenomics (SEFF).